I mentioned in my previous post about the Arbonne skincare products I am currently using so I thought I might give you all a quick run down on what they are…
Arbonne is a Swiss skincare brand based on "botanical principles". They place an emphasis on being green, and they at least appear to, though I have no delved too deeply. They claim that almost all of their product shipments are "certified carbon neutral", which I love since you can only order their stuff online or through a rep. Packaging is all recyclable etc, but more important to me, I was told it was also BPA free. I went to an info night once and the speaker made a very good point: its great that water bottles are now being made BPA free, the water you drink is now less toxic from chemicals leaching out of the plastic container; but what about your skincare products? The product sits in the container for who knows how long and I'm sure a decent amount of chemical leach into the product you then put directly onto your face. Sorry, where was i?… Yes, Arbonne.
Their products are formulated WITHOUT (from their website): animal products or bi-products, parabens, formaldehyde, donating preservatives, phthalates, alkylphenols, benzene, triethanolamine, monoethanolamine, phosphates, polyethylene glycol, petrolatum, bisphenol-A, gluten, synthetic dyes, triclosan, hydroquinone, artificial colours, artificial sweeteners, artificial flavours, cholesterol, trans fats (they do supplements and things as well), and mineral oil. Whew.
"Pure. Safe. Beneficial." is their motto. I like the sound of that.
Here are the products I use from Arbonne. I've tried a few others here and there but these are my (mostly) daily products…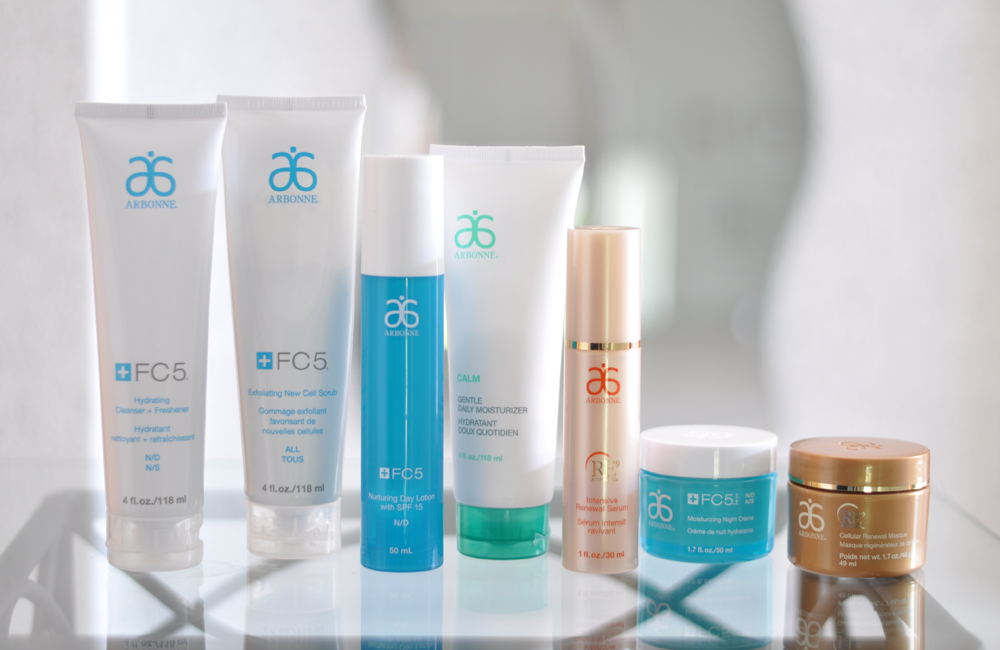 The majority of the product I use are from the Fresh Cell 5 (FC5) which is aimed at younger skin. My rep said I was old enough (grandma at 25 apparently) to start using products from the RE9 Advanced range – anti-aging/more mature skin – but I found the daily moisturiser just too rich for me. (FC5 is a LOT cheaper too!)
 FC5 Hydrating Cleanser + Freshener – I use this every day, sometimes I feel like a need a bit more but on the whole very happy with this (if anyone is interested in Arbonne the RE9 Advanced Cleanser was great as well if you need that little bit extra oomph)
FC5 Exfoliating New Cell Scrub – I use this product a couple of times a week but mainly at night, its nice to use after a long day of wearing lots of makeup or anything like that.
FC5 Nurturing Everyday Lotion with SPF15 – I hate wearing sunscreen but this is actually bearable, I almost always forget about the sunscreen-y feeling. Once absorbed the feeling of it goes away almost completely, I like very lightweight products on my skin, I don't really like to feel that there's anything on there. I only really notice anything around my T-Zone, but I think thats generally just my natural oily deliciousness (ew).
Calm Gentle Daily Moisturiser – if I'm not going outside I don't want to wear sunscreen, so this is a nice little extra product I acquired for lazy days at home. It has an almost menthol-y tingly feeling to it sometimes, but nice and lightweight.
RE9 Advanced Intensive Renewal Serum – I had never used a serum before our consultation with the Arbonne rep. Life changer. My skin felt so lovely afterwards, I didn't want to put a moisturiser on top! Unfortunately the FC5 range doesn't include a serum, but I guess a bit of anti-aging cant hurt. This goes on my face as soon as I've washed it, every time.
FC5 Moisturising Night Creme – The first time I used this I fell in love. My skin felt amaaaazing the next morning and it has a nice kind of citrus smell to it. I use this religiously every night.
RE9 Advanced Cellular Renewal Masque – Another product I had never experienced until our consultation, but wow. This is one of those products that's probably really bad for you because I'm pretty sure it takes off the top layers of skin but your skin is amazing afterwards! This was a pricey product but you can only use it once or twice a week so the relatively small pot has lasted me a long time.
Also everyday products for me are my Burts Bees Beeswax Lip Balm in the little tin (cant live without it!) and my EOS in Sweet Mint (not in love with this but I'll use it until its gone).
I've recently add a few naturkosmetik products to my everyday routine but I'll give you all a break and make that a separate post!
If any of you have questions about anything  or want to know more ask away!
Love,