I need some VEJA HOLIDAY's on my feet asap! I mean just look at these beautiful babies!
I really love VEJA's company ethics; they strive to create a style to suit everybody and every ethos. They have a wide range of vegan footwear, as well as footwear with responsibly sourced and tanned leather sections. They also use materials like organic cotton, recycled cotton, recycled plastic bottles, recycled polyester, and wild rubber just to name a few. They are very conscious about reducing CO2 and reuse and upcycle where they can instead of using raw materials. For instance: "the B-Mesh used by Veja is made from recycled plastic bottles. 15 plastic bottles are used to create a pair of sneakers. This upcycling process creates a smart fabric, both breathing and waterproof."
Seriously, I am so in love. Now if they could design them in a way that means you can take them apart easy at the end of their life so as to fit a circular economy model, I would buy one in every darn colour!
Another recently discover label that I need to fill my closet with is JAN 'N JUNE. Seriously, check out the selection on avocadostore.de. Again, I'm in LOVE.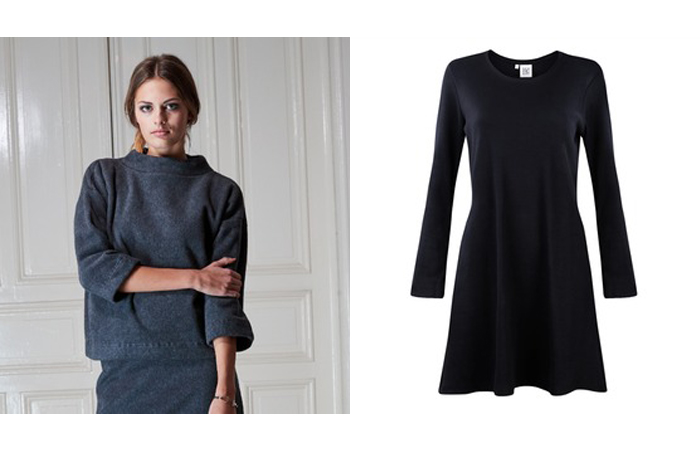 JAN 'N JUNE is a minimalistic eco-fashion label fairly produced in Poland. They use great fibres such as GOTS certified organic cotton, recycled polyester, and MicroModal (a fibre made from cellulose aka plants). Another thing that they do which I love is that every piece of clothing comes with a QR code so you can scan it and understand where it came from! How cool is that!?
Now Matt & Nat has been on my radar for a long time. They are a company that is committed to not using leather or other animal based products; instead they use materials such as recycled nylon, cork, and rubber. And since 2007, the linings of their bags are made ONLY of 100% recycled plastic bottles – around 21 bottles are recycled for every bag they produce.
I really love the variety of their collections and their design language. Sometimes I find that eco brands can be just a little bit too… "eco" looking for me. I want it to look like my version of normal, and classy; not like I literally beat up some forest dwelling creature for it.
As much as I care about the ethics behind the production of the pieces; what I think is incredibly important is how far the brands think about the end of life of their products, not just getting them out of the factory door and forgetting about them. The textile industry is so incredibly polluting, and there are definitely ways out there to at least TRY and be a bit more sustainable. Though textile recycling isn't really a thing yet, there are initiatives out there working to make it become so. In the meantime, we need to think about how we construct products. Can we take them apart easily to reuse bits? Are they made from one type of fibre that we can easily recycle, or is it a blend which is far more difficult? Are we using natural fibres where possible such as 100% cotton or Lyocell (cellulose fibre)? As these would break down if they found their way into the environment rather than polyester i.e. plastic. Also, every time you wash a piece of clothing, microfibers make their way out of the fabric weave and are washed eventually into the oceans and into the fish that some of us consume. I think its probably better (albeit not ideal) that fish are consuming cotton rather than polyester!
Ok end rant for now, but I will probably have another one in the near future, so my apologies in advance!
Any cool brands that I should be on the lookout for? Would love to hear your thoughts 🙂
Love,