A few thoughts on the alverde Macadamianuss Karitébutter Body Butter…
When I first found out about Naturkosmetiks in Germany, alverde was one of the first brands I read about, and this body butter was one of the first products. I read a few good things about it so I put it straight to the top of my "to-buy-at-dm" list.
The Köperbutter (body butter) in the variety Macadamianuss Karitébutter (macadamia nut and shea butter) comes in a nice round tub. It exactly like The Body Shop's body butter containers, surely most of you have seen one or two of those in your life! I quite like it, although I suppose not super hygienic if you're dipping your fingers in it all the time, maybe make sure you wash your hands first to avoid germ contamination… Just to be safe…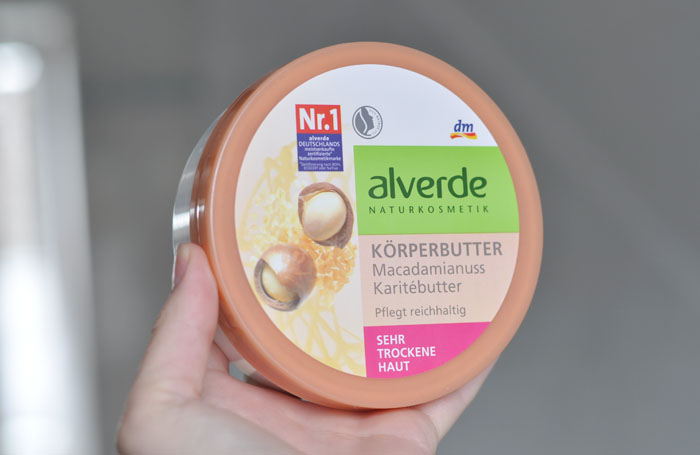 I have discovered a new (well new to me) website/app called codecheck.info. You can scan barcodes of various products such as cosmetics or food and it will give you a run-down of how safe the product is, the ingredients, and certifications it has. Very handy! It's in German, but I use Google Chrome and do the old "right click – Translate to English". I would urge you to check it out as you make your way through the "green" cosmetic world. There are other websites out there for those not in Europe such as the Skin Deep database, but this mainly targets products available in the USA, not so much the world of European Naturkosmetiks. I do find this very useful to look up specific ingredients that I want to know about; each ingredient has its own individual rating on overall hazard based toxicity etc. It's very interesting!
I used a combination of these two websites while delving into the ingredients of the body butter. I am relatively happy with them, though there are a lot of emulsifiers before you get to any of the really "good for you" stuff. The butter is based on water and soy oil, and the macadamia and shea butters don't enter into the fray until ingredient number 7 and 8. Having said this they are of course more expensive products and this is certainly a budget buy.
Ingredients: Aqua, Glycine Soja Oil *, Glycerin, Alcohol *, Cetyl Alcohol, Cetearyl Alcohol, Glyceryl Stearate Citrate, Macadamia Seed Oil Ternifolia *, Butyrospermum Parkii Butter *, Theobroma Cacao Seed Butter *, Olea Europaea Fruit Oil *, Xanthan Gum, Calendula Officinalis Flower Extract *, Prunus Amygdalus Dulcis Seed Extract *, Rosa Damascena Flower Water *, Tocopherol, Helianthus Annuus Seed Oil, Ascorbyl Palmitate, Parfum **, Limonene **, Benzyl Salicylate **, Linalool **, Citral **

* ingredients from certified organic agriculture

** from natural essential oils
 I was somewhat worried about the soy oil base as I cannot tolerate soy products that I eat such as tofu and soy milk; I was curious to see if this intolerance affected my skin too.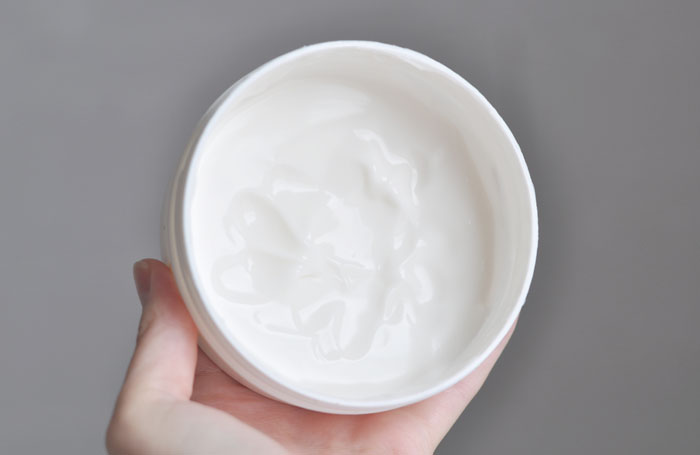 Now straight up, I don't have sehr trocken haut (very dry skin) as this product is suggested for, so my results may vary from others.
The consistency reminds me of thick, super smooth yogurt, its lovely! And I do quite enjoy the scent even if it does smell slightly fake/unnatural to me. This is probably the added perfume (not an ideal ingredient if you have sensitivity issues).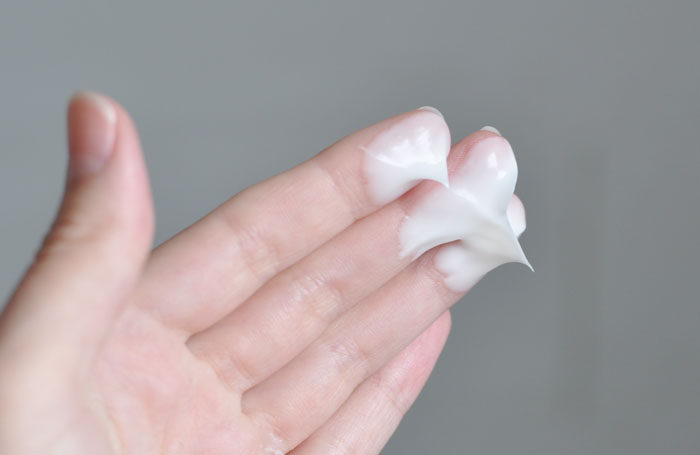 DO NOT OVER APPLY THIS PRODUCT or you'll never be able to rub it in! A small amount goes a long way! The quantity I have on my fingers in the photo will pretty much do one entire leg.
I have used this on my whole body usually at night after I've had a shower, and usually exfoliated. I tried just staying naked for a while to let the butter absorb but it was taking a very long time, so I just went to bed. My skin did feel quite nice the next morning but I dread to think how much is on my sheets.
No matter what I do I cannot get this product to fully absorb, I really dislike having the feeling of oily residue left on my skin. If I put it on in the morning, maybe by the end of the day it's not oily any more but then I don't know how much of it has rubbed off on the couch, chairs, pants, anything I touch. Now I don't know if this is due to my soy intolerance or the fact that my skin just isn't dry enough.
I have tried this after exfoliating and directly after shaving and have not had any issues, so bonus points for that.
*Hot tip* don't forget to put the lid back on otherwise it will start to dry out and form a weird (very cool, velvety) skin on the top. You can mix this back in mostly, but try to avoid it if you can.
This product is certified organic by Natrue, all of the – for lack of a better word – vegetable ingredients all come from certified organic agriculture which is awesome, and it is certified Vegan.
You can pick this up from dm for only €2.95, an absolute bargain.
I think this product would be great if you really do suffer from very dry skin, I just don't think I quite have that issue at the moment (or for the past couple of months that I've been using it). I will try it again in winter and see how it fairs… I think this is a good to very good product, it just doesn't quite work for me at the current time.
Love,