When this high-performance, natural cosmetics company from Berlin reached out to me and asked if I wanted to test their products, I said "yes please!" I love discovering these niche brands that are passionate about creating healthy, natural products that work.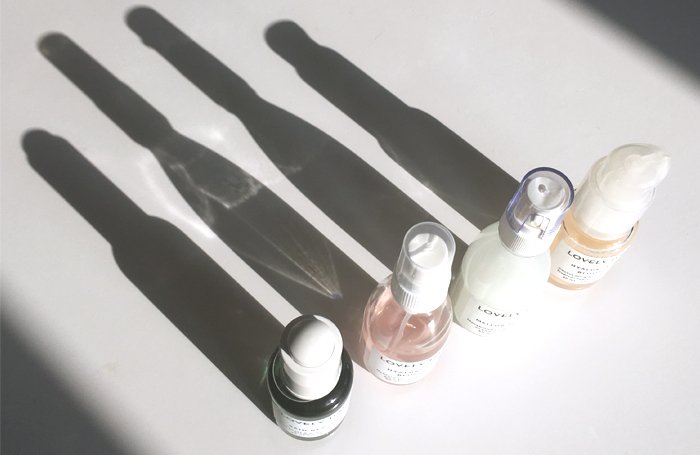 Lovely Day Botanicals make a point of excluding synthetic ingredients, ingredients derived from animals, alcohol, artificial fragrances, and overly aggressive essential oils from their plant based formulations. They also opt for more environmentally friendly packaging (everything is in glass, love!).  They also aim to offer premium quality products, and fair prices. Their products are natural because it's the best thing for the skin, not because they're riding the greenwashing wave.
I was very interested in their HYALURON + BLOOM products as well their SKIN RESCUE Oil (how could I not with a name like that!). I have seen products containing hyaluronic acid around the place and was interested to try it out. Its touted to really boost skin hydration, the chemical structure of the naturally derived chemical is such that it can hold onto massive quantities of water. Young skin can do this itself; as skin ages, it begins to lose this ability and lose its "plum-ness/firm-ness", hyaluronic acid can help with this. According to Paula's Choice, it also has a host of other benefits including mitigating sun-exposure related issues, and providing an antioxidant defence against other environmental damage. It is also said to be calming and therefore helpful for those with sensitive or blemish prone skin.
I was sent a selection of four of their products; I received the MELLOW MALLOW Creamy Cleansing Gel, the HYALURON + BLOOM Face Toner, the HYALURON + BLOOM Tropical Hydration Nectar, and the SKIN RESCUE Problem Skin Oil.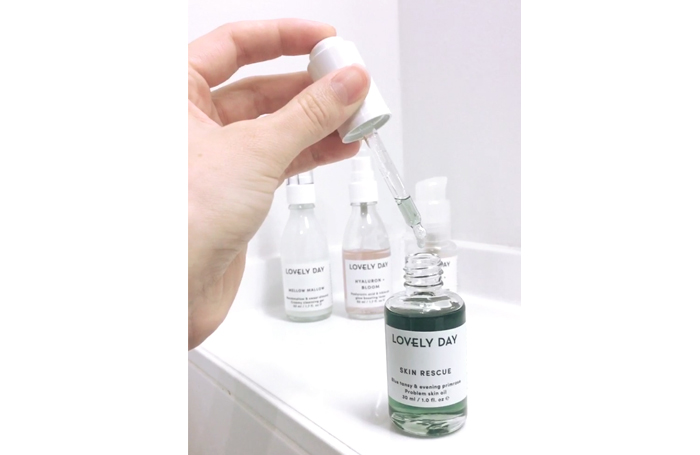 First off, totally in love with the packaging. The glass bottles are very luxurious, and the choice of product delivery systems is spot on. I had never seen an oil dropper such as this before the SKIN RESCUE Oil and I love it! So much "prettier" than the standard squishy black thing.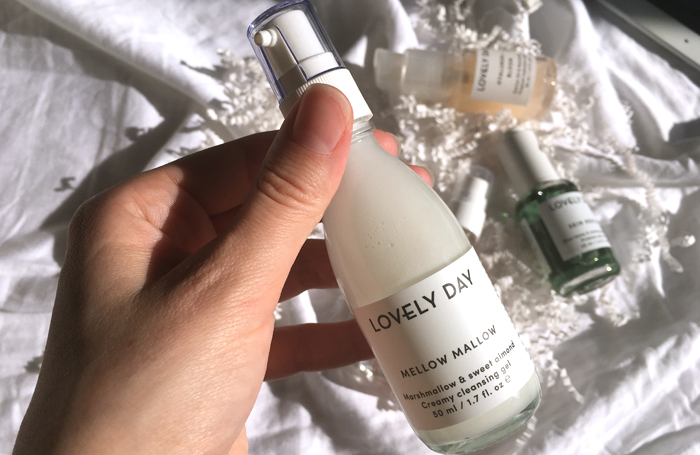 First up is the MELLOW MALLOW Creamy Cleansing Gel, I haven't used a creamy cleanser in ages as I had been using a facial bar, but of boy was I missing out! This cleanser is so silky! I love the texture, creamy and builds up light silky bubbles. My skin feels well cleansed after using, and not stripped. I use this with my faux Foreo silicon buzzy cleanser thing (can provide more details/review if anyone is interested?). The Cleansing Gel also does a great job at removing makeup, though I have not tested it on waterproof makeup as I do not actually own any haha! Scent is a barely there, very mild smell that I can only guess comes from the inclusion of sweet almond oil.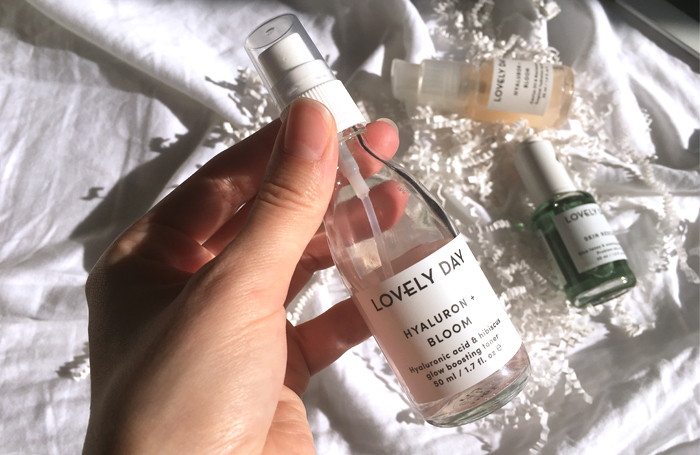 Next, the HYALURON + BLOOM Face Toner. There is a high content of Aloe Vera Gel in this, plus the additional of the magical hyaluronic acid means it's lovely and hydrating. Though the "spray" thing is a bit strong, like think of a water gun (maybe I got a bad one where the opening was blocked?). Not a big problem to me really, I just spray into my palm and then pat onto my face. More like water than aloe vera gel in consistency; absorbs quickly, and nice scent from the rose and hibiscus water and extracts. Leaves a bit of a sticky feeling for a little while (aloe vera I guess) but not enough to annoy me.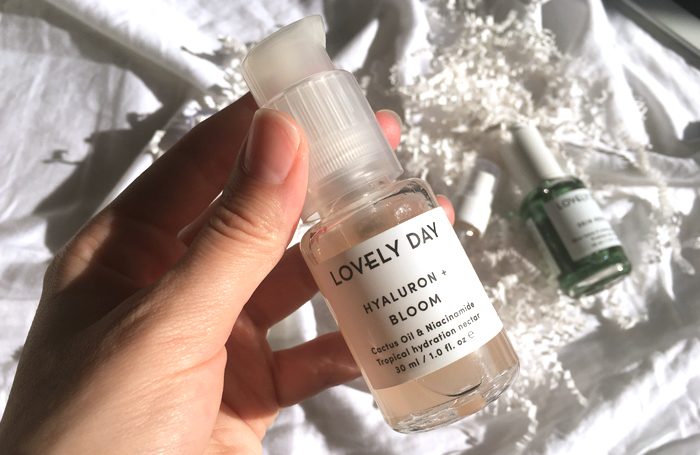 I then follow this with the HYALURON + BLOOM Tropical Hydration Nectar. This product is very interesting; it contains two forms of hyaluronic acid (two forms are also in the toner), one that deeply penetrates and the other targets the more superficial layer containing collagen and elastic fibres. The product is based on aloe vera, so as you can image, the texture is more gel-like. It also contains Babassu Oil for all you Babassu lovers out there. I like that product dispenser can be switched "on" and "off", it was perfect for traveling when I took it with me. It's quite precise and allows me to get the amount of product I want. Again, nice light hibiscus scent, and nice and cooling to smooth over the skin. Absorbs quickly, leaves a slight stickiness, but it is gone pretty quickly. I usually find using these two products is enough hydration for me, especially when I'm just home all day studying (sometimes too much?).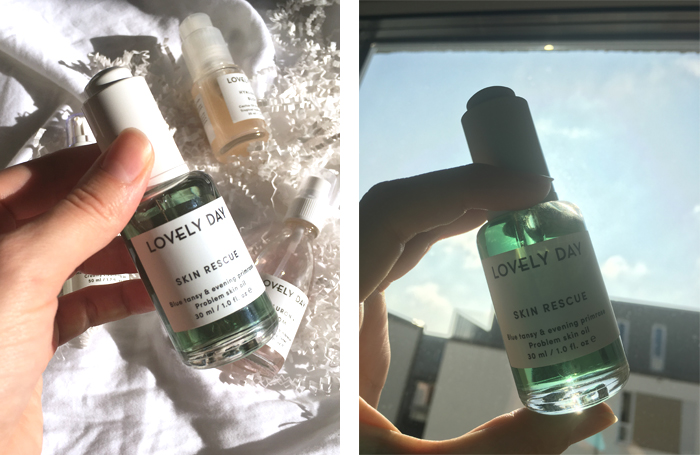 If I know I'm going to go outside into the cold, wintery weather, I will then top it off with the SKIN RESCUE Problem Skin Oil. I didn't think I had very problematic skin, or maybe I just really don't now after using this product for a while. This product contains blue tansy which gives it that lovely colour. This was another ingredient I was intrigued by, especially for it antibacterial, and anti-inflammation properties. This feels like it really helps calm my skin down as I often get redness in my cheeks. It has a nice herbal scent and I like to spend time in the evening massaging it into my face, neck and chest. It is based on argan oil which my skin tends to like which helps.
I used these products for more than a month to make sure I got some good testing out of them. I am very happy with all of them and I am looking forward to this lovely Berlin based brand will bring out next! They just released some AMAZING looking facial masks (think CHARCOAL + MANUKA, and other with the HYALURON star). I definitely would reach for all three items excluding the oil happily every day, I think the oil on top just is a little bit TOO much hydration for me for the day time. I think if you have very dry skin, you should definitely check out this brand. They also offer samples on their website so you can try smaller amounts first!
Have you tried any of Lovely Day Botanicals' products yet?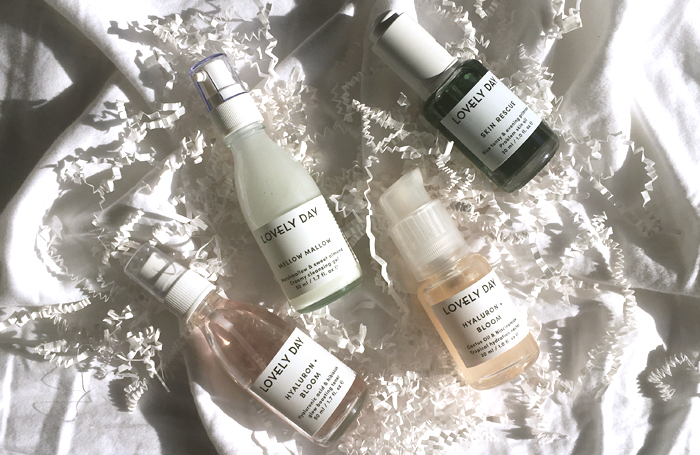 Love,