I was offered an opportunity to try some of Regulat Beauty's innovative vegan beauty products so I checked out their website, and took the plunge! *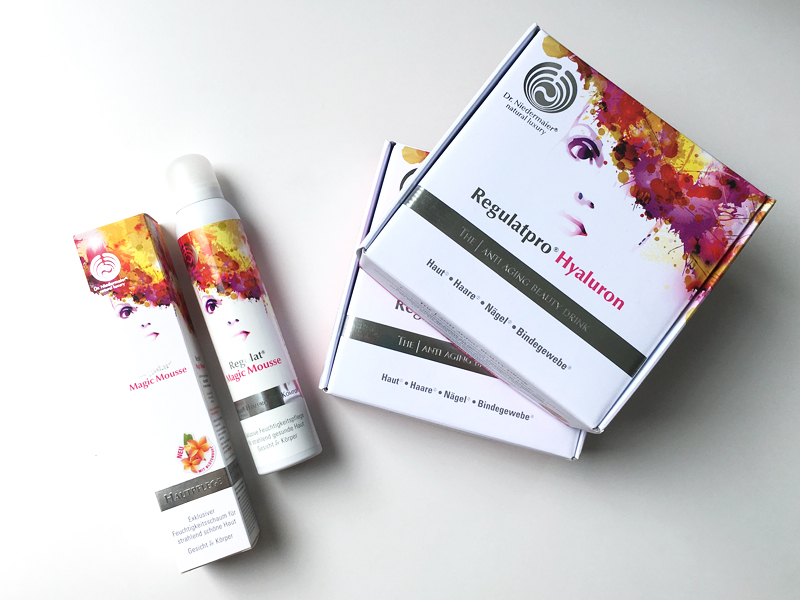 The Regulat Beauty line comes from a company called Dr. Niedermaier Pharma GmbH which has been around since 1939! That's nearly 80 years of experience in the beauty industry! Since their foundation, they have been a large part in revolutionising the natural beauty and health scene. Their ongoing R&D has lead them to become the world market leader in fermented food supplements and cosmetics!
They have patented a process of fermentation called cascade fermentation, which has become the basis of their line Regulat Beauty. The name comes from the product of fermentation process: REGULATESSENZ (Regulat Essence). During the process, valuable natural elements are broken down almost to a molecular level, and then compressed again into a liquid and bioavailable form. Bioavailable is a key term here. There are many minerals that can be consumed/applied, but if they are not in a bioavailable form, the body cannot absorb them. This bioavailable REGULATESSENZ contains a potent blend of rejuvenating ingredients that can be easily absorbed by the body give an "anti-aging" effect. Yes, this term has come under fire recently, but it's still the easiest way for you to understand what I'm trying to explain! 😀
The REGULATESSENZ works at the cellular level to help replenish stores of important minerals and nutrients which your cells need to function correctly, which in turn helps your body fend off the natural signs of aging. Our bodies contains billions of cells of all different types, I decided why not give them a little helping hand!!
I am a great believer in the benefits of fermented foods. I have done a home-fermentation course, and now know how to make my own krauts which are great for maintaining healthy intestinal flora. I also brew my own kombucha, which I'm not quite sure counts as fermenting, but still a probiotic and good for the gut.
Regulatpro® Hyaluron
I am open to trying new fermented foods and am a little bit obsessed with hyaluronic acid at the moment so when I saw the boxes of Regulatpro® Hyaluron, I nearly jumped up and down! I can now get EXTRA hyaluronic acid by drinking it!? (check out a previous rave about hyaluronic acid here).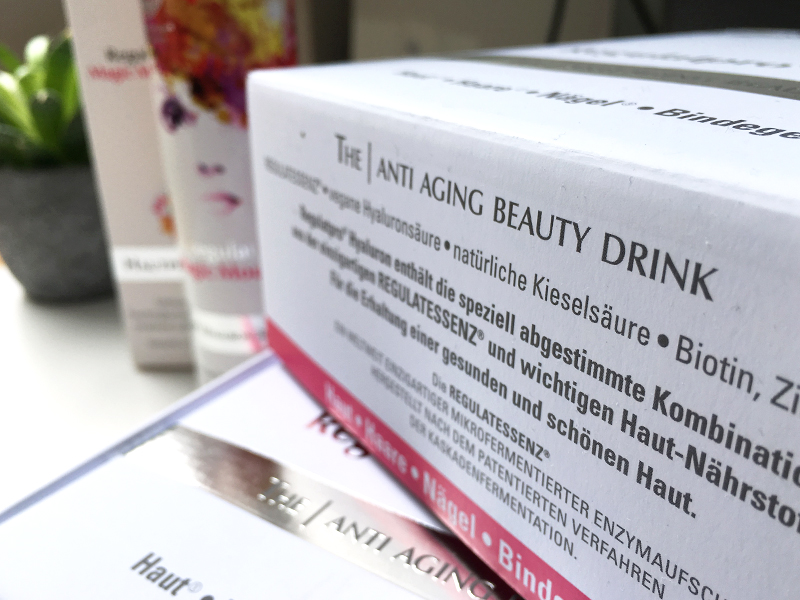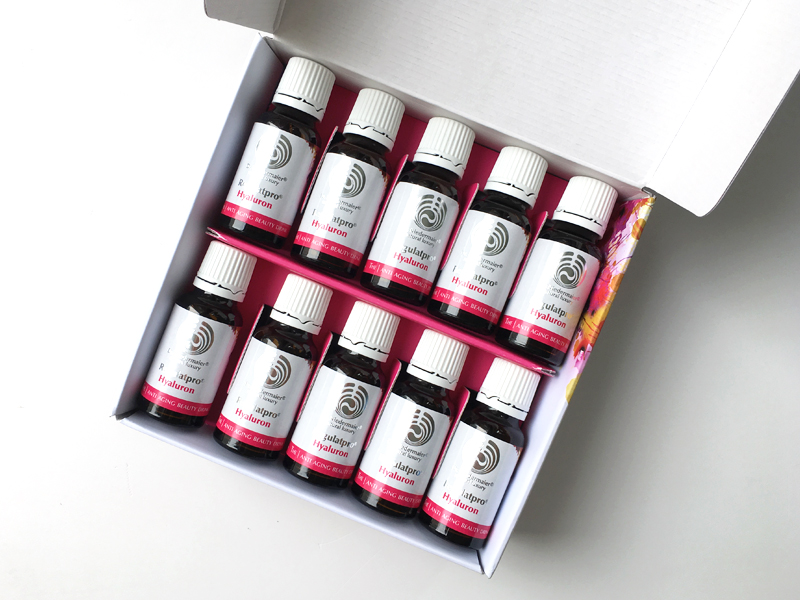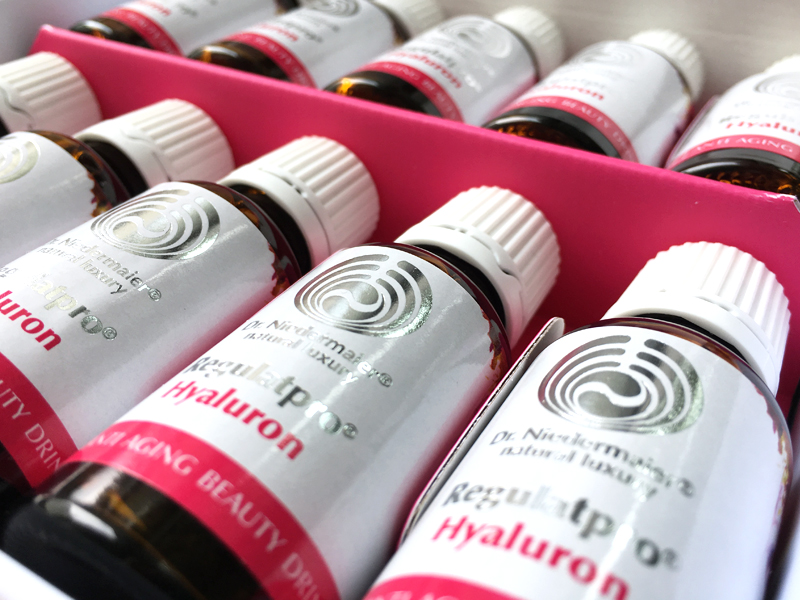 The product comes in individual dose bottles, and you drink one per day either in the morning or between meals; then follow it up with a glass of water. It takes a few weeks to build up in your system, similar to some drugs, before you start seeing real effects. They recommend you keep to one a day for 6 – 8 weeks and then continue having one dose every couple of days to maintain.
Regulatpro® Hyaluron is packed with vitamins and minerals to grow and maintain healthy hair, nails, and skin. It is a potent combination of Biotin, Zinc, Copper, and Vitamin C which all perform different functions from increasing absorption of other minerals, to boosting collagen formation.
One bottle (20ml) contains:

Biotin 45 μg / 90% **

Vitamin C 18 mg / 23% **

Copper 0.25 mg / 25% **

Zinc 4.6 mg / 46% **

** Percentage of daily suggested requirement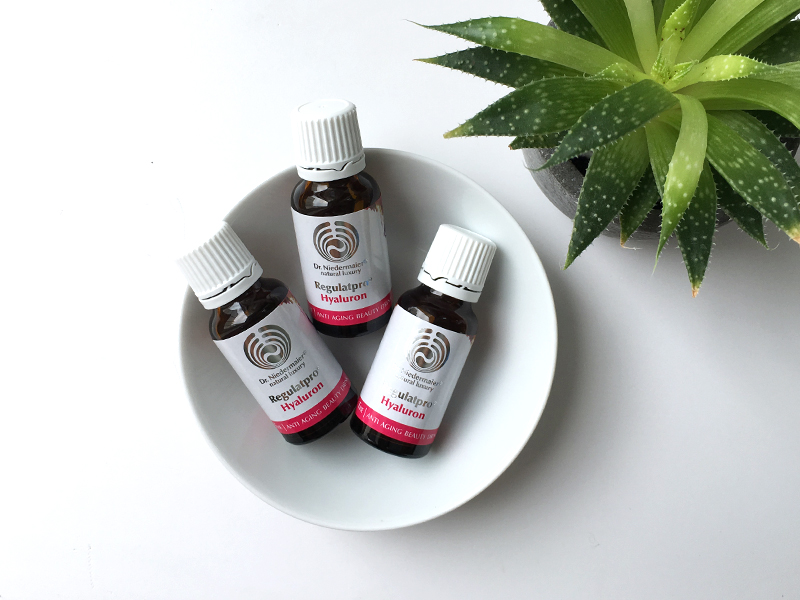 Initially, when I read the ingredients, I wasn't sure if I was going to be able to tolerate this product as I basically have IBS and cannot eat certain foods such as onions and soy – both of which are used during the fermentation of the REGULATESSENZ. I was VERY happy to discover that I had no issues at all with this! I was hoping since it was fermented onions and soy, it would be gentler on my digestive system; I was right!
Now, if you've tried anything like kombucha before, the flavour will be less shocking to you. It is very strong and kind of sour-vinegary, but then marginally fruity. Very difficult to explain. It's not too "stabby" like straight up vinegar, just has a strong flavour. Not bad, but I probably wouldn't sit and drink a glass of it. I just drink it straight from the little bottle. Follow it up with a glass of water to wash any remaining taste out and you're done! Easy as that to get a great dose of key vitamins and minerals!
I'm not particularly thrilled with the large amount of packaging that is required when the product comes in these single dose bottles. A single larger bottle would probably make me feel less bad about the environmental impact. In saying that I do like that you just have one a day, no measuring, just open and down it goes. At least they're glass so I can easily pull the plastic top off and recycled that with the plastics and the glass in with other glass bottles.
I think I have definitely noticed a difference in my hair, I think it is feeling much softer and smoother in areas that often feel weird and dry. My nails have always grown quite quickly so I haven't noticed a HUGE difference there (I wish there was something to slow them down!). I am also very happy with my skin, it feels smooth and even. I have not have issues with dryness on my arms or legs since starting on this (not that I have that very often but still), even my elbows are pretty happy!
EXTRA NOTE: The Regulatpro® Hyaluron was awarded the Wellness & Spa Innovation Award by the German Wellness Association during the Beauty trade fair in Dusseldorf this year (2017)!
Regulat® Magic Mousse – UPDATED
I get to double up the hyaluronic acid goodness with the Regulat® Magic Mousse I was also sent! This is a mousse also contains the potent REGULATESSENZ as well as hyaluronic acid. These work to keep wrinkles away by rehydrating and plumping the cells. The REGULATESSENZ helps to carry the hyaluronic acid deeper into the tissue for an inside out hydrating effect. It also has the added benefit of anti-oxidants to fend off environmental pollutants and sun damage.
Because I must be a bit of a man and don't like to read instructions, I initially used this product as a cleanser… But I mean, I feel like I'm not the only one who would think that… Anyway, I found out it's a moisturiser! Say whaaaaaaat?! I know! Probably why I didn't think it was a great cleanser (face palm) – see below for my review of using it as a cleanser even though it's not 😀
On to a proper review…
I find this product incredibly fun to use – I love foam; I'm a giant child. I tested this out on just one arm and one leg for a while to see if I could notice a difference. Let me tell you, after day one I could! This innovative hyaluronic acid infused foam left my skin feeling tight and smooth, especially the next morning after applying it before bed. I would certainly recommend this if you have problems with dry skin. I don't think I have overly dry skin, but as winter is on the way in, my skin is freaking out a bit.
I much prefer using this on my body as the scent is quite strong, a bit too strong to use on my face. It's not a bad scent, just not one I want to have so close to my nose. The scent dissipates after a while, but lingers a bit too long for me to want to use on my face.
It absorbs quite quickly; I don't like using body oils as I hate feeling greasy, so this is a fantastic option for me. Highly recommended if you're not a big fan of body oil as well!
—
And now some notes about using it as a cleanser (in italics) – which is NOT its intended use but thought I would leave them in anyway. It still works, and is not stripping at all, so maybe it might work for you?…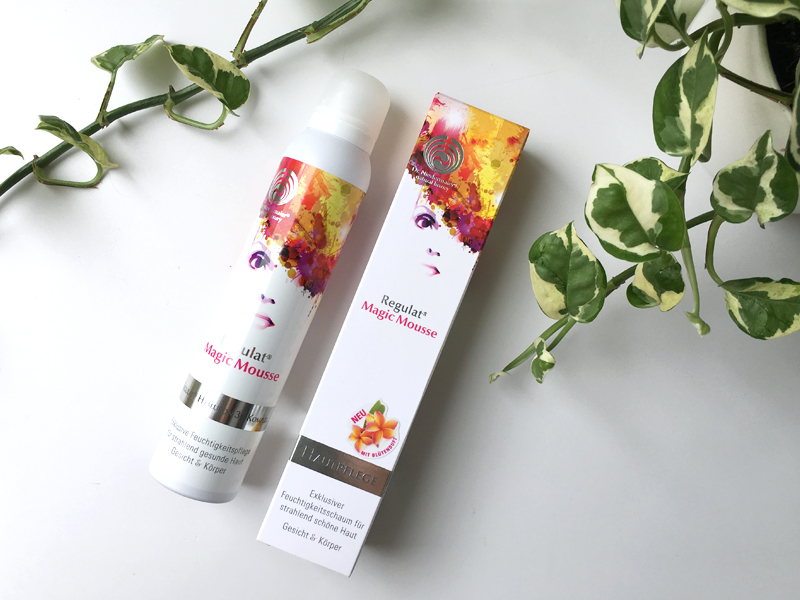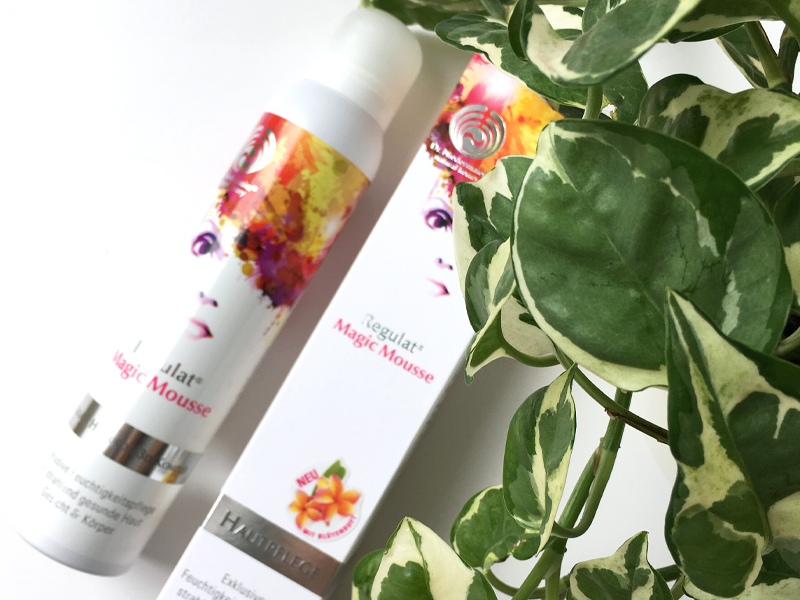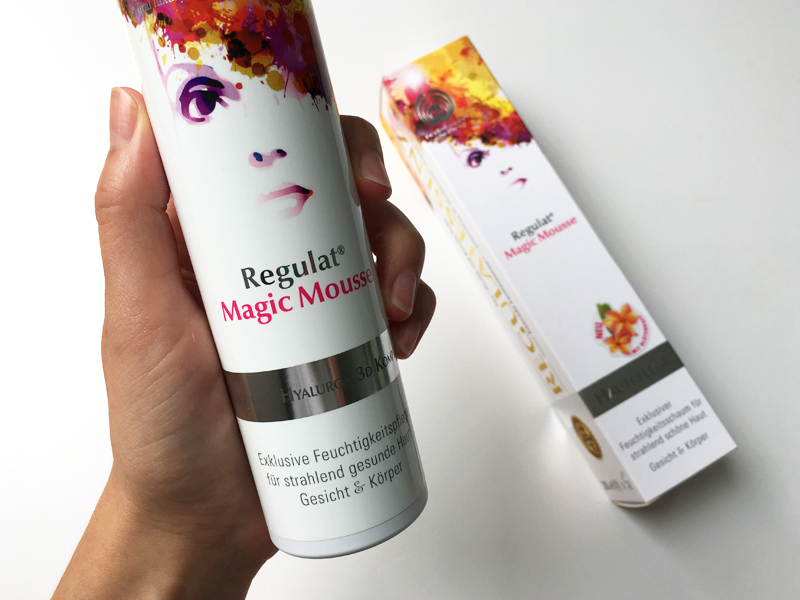 You can use this on your face and body. I started just using on my face (after testing on my leg for a reaction) as I didn't want to run out it was so much fun! I didn't have to worry though as I think this bottle is going to last FOREVER.
You need to shake the bottle quite vigorously before using, but then you get a lovely, silky foam. This quickly continues to expand and create larger bubbles that can be seen in my photo on my hand. Its super silky and smooth on the skin, I have used both with just my hands and with a fake Foreo. I feel like this would be good if you have dry skin as there is certainly no "stripped" feeling that you can sometimes have with cleansers.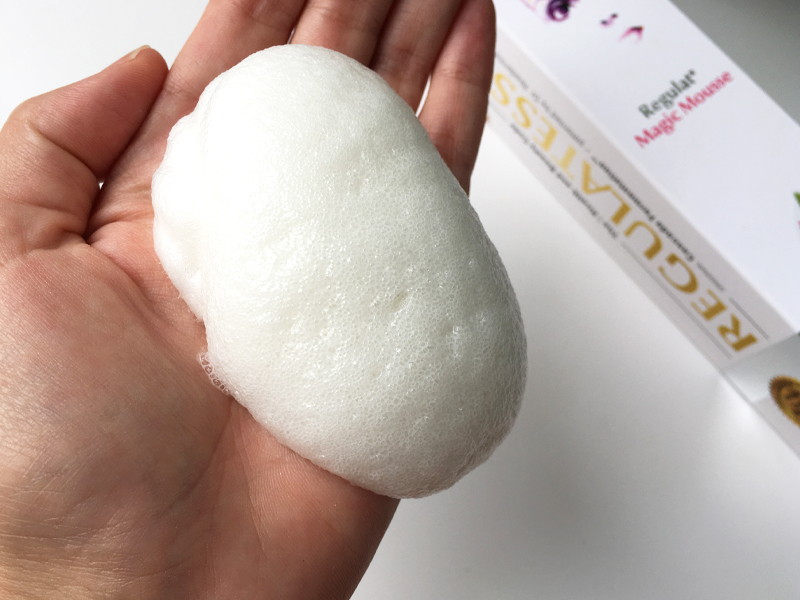 For my skin (on my face), I think it was almost too much and I'm not sure it quite worked. I don't think my skin really broke out, but I just didn't love it. It also has a very strong scent which seems to linger unless I rinse my face like 5 times. This was a downfall for me, but I like using it on my body where the smell is further away. The scent is lovely, just a bit overpowering.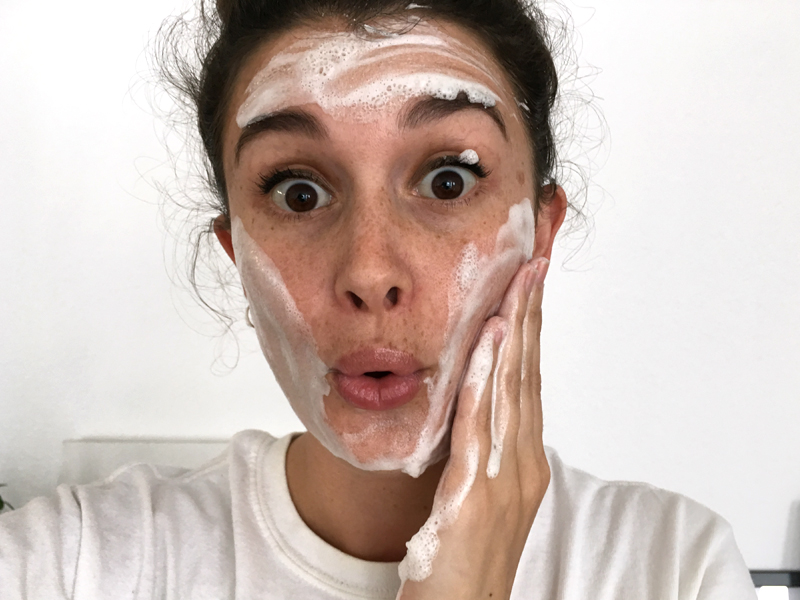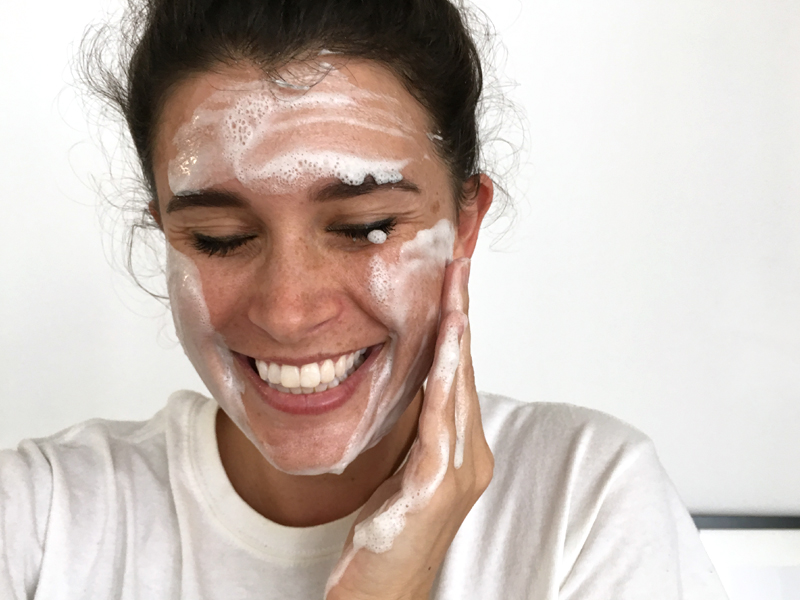 All in all, I can say I was very happy to have had the chance to try these innovative products. I love the use of fermentation combined the hyaluronic acid to improve its absorption even further. I definitely will be looking out for more of these products in the future!
You can find Regulat Beauty Products here:
Website: https://www.regulat-beauty.com/ (non-affiliate)
Instagram: https://www.instagram.com/regulatbeauty/ (non-affiliate)
*Though these products were sent to me for review, this has no effect on my feelings towards them. I have reviewed them as I would a product I had purchased with my own money. Also please note that none of the links are affiliate!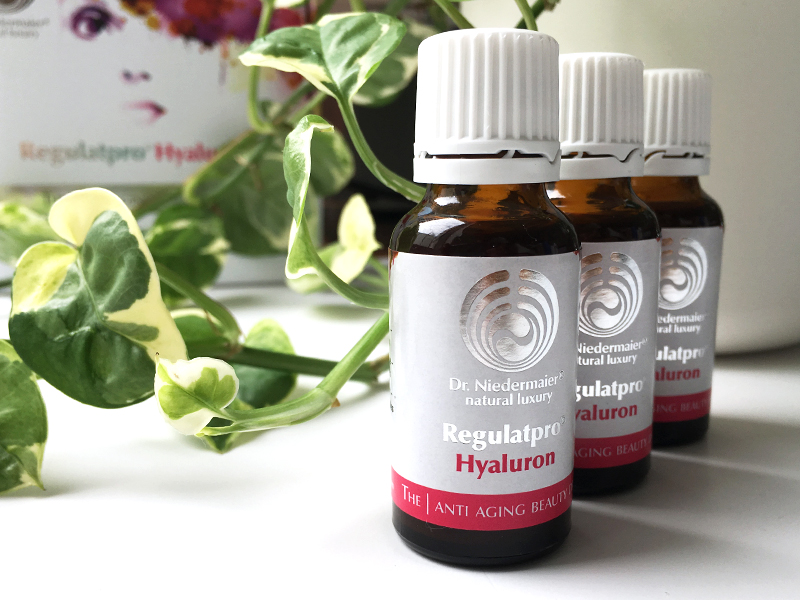 What do you think about fermented ingredients in cosmetics? Have you used anything like these products before? Let me know below!
Love,