Today I'm reviewing two products from alverde Naturkosmetik's INTENSIV range, purchased mainly due to my pomegranate obsession…
I love lipbalms and really want to start loving hand cremes so products from these categories were high up on my "to-buy-from-dm" list. Combined with my love of pomegranates alverde's INTENSIV range looked perfect for me, so  I picked up the INTENSIV Lippenbalsam – Granatapfel & Karitébutter (Lip balm – Pomegranate and Shea Butter) and the INTENSIV Handcreme – Granatapfel & Karitébutter (Hand creme – Pomegranate and Shea Butter) .
—–◊—–
I almost always have dry lips, probably due to not drinking enough water but that's something I'm working on! I just hate having to go and pee every five minutes. I know it's not like this when your body is properly hydrated but still, for now it's annoying.
Anyway so at the moment I have relatively dry lips. Now, I loooove my Burt's Bees Beeswax Lip Balm and I'm not sure if I'll ever find something to compare to it but hey, one must leave their comfort zone in order to learn anything.
STORY TIME – When I bought the alverde INTENSIV Lippenbalsam I was excited to see how well it would work. As soon as I walked out of the store I removed it from its packaging (carefully so I could take a photo for you all later!) and applied it liberally to my lips. I massaged it in a tiny bit with my lips and then just let it work its magic. I then proceeded to walk through the shopping mall for another hour or so.

When my boyfriend picked me up I checked myself in the mirror and reapplied the lip balm the same way I did the first time and oh my goodness my lips were PURPLE! I looked like I was really cold or dead or something! I had been walking around with purple lips! (Ok well alternative coloured lips are trending a bit at the moment so it probably wasn't so bad, but obscure coloured lips isn't really my thing…)
I have been using this product daily for a couple of weeks now and can't say I'm super impressed by it. Maybe it's just not quite INTENSIV enough for my super chapped lips, I don't know…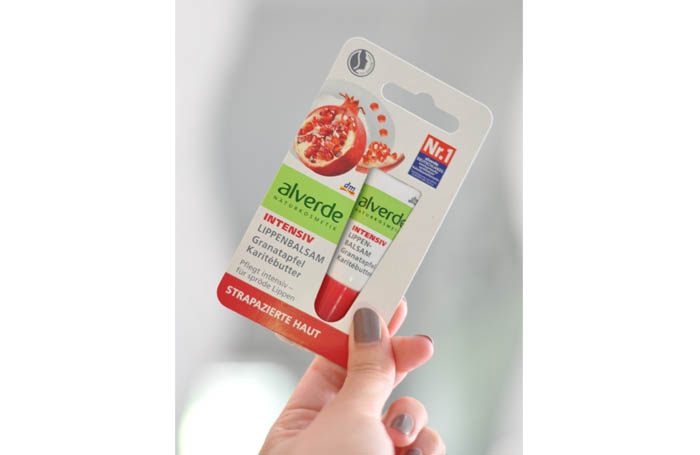 You can find it hanging up with the multitude of other lip balms in dm and comes in cardboard packaging that can be recycled (or will eventually biodegrade I suppose).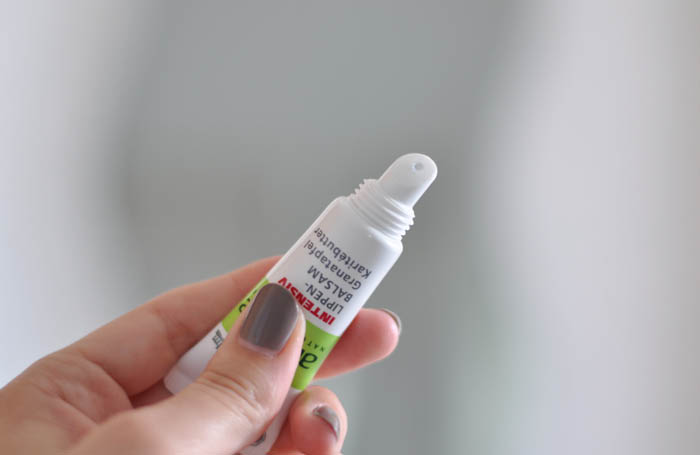 Once removed from the packaging you find a squeeze tube thing. (I was actually surprised when I pulled it out because I was expecting a stick balm for whatever reason.) I tend not to use the applicator end directly on my lips and just squeeze the product out onto my finger since I always seem to make a mess of the applicator and its looks not so pretty. Other, more coordinated people may not have the same problem as me…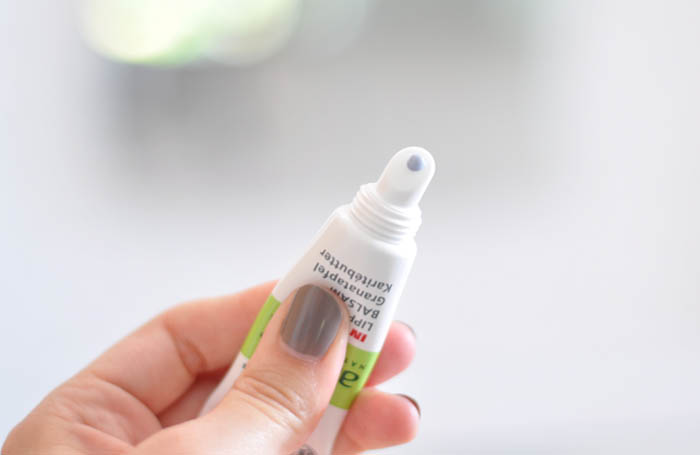 It does have a nice texture though, not too tick, not too runny. I wouldn't say it has much of a scent, kind of faintly sweet but I don't pick up any hints of pomegranate (sad face).  There isn't much of a taste either, when you first apply it yes maybe, but then it just tastes kind of product-y?… If that's a flavour. But you only get this if you really try to lick it off (the things I do for reviews!).
So I've mentioned the colour issue. The main problem with it is that if you have any bits of dry skin, the product builds up on it and accentuates it. Not ideal. The colour does disappear after you rub your lips together a bit, then it just has a nice faint gloss appearance which I like.
As for the "intensive" moisturising power, I wasn't overly impressed. It absorbs quite quickly, especially if you're like me and tend to rub your lips together, but then I feel like it hasn't done a whole lot for the chapped lip situation. The feel the same as they did (if not worse) and feel like I need to apply more of the product – I guess this makes you use/buy more?
This product costs €1.45 and has the NaTrue and the Vegan seals.
Overall on my super dry lips this was a bit of a miss for me. The colour also doesn't enthral me. I will continue to use this product, and will update you how it fares when I'm sufficiently hydrated; but for the moment I will not repurchase this product.
* Quick tip * I mentioned in a previous post that my eye area can get really sensitive and anything I put on it stings, well this doesn't. So if you need an eye creme and everything else is stinging that day, give this a go if you have it on hand! Hahaha
—–◊—–
That was probably a bit long, sorry. I will try to keep this review a bit shorter.
I am not a hand creme guru, but I'd like to include them more into my day so I have to start somewhere right? Hands are such important parts of our bodies so we should take good care of them.
I am very picky about what a product feels like on my skin, I hate having any kind of grease or residue left after applying a product, especially if it has had a long time to absorb. I don't want to feel like I need to go and wash my hands, which is usually what dries them out in the first place! My ideal hand creme would absorb instantly and my hands would be perfect all day long, but alas this is but a dream.
The alverde INTENSIV Handcreme – Granatapfel & Karitébutter was a bit exciting because, hello! Pomegranate! And because I hoped it would be perfect.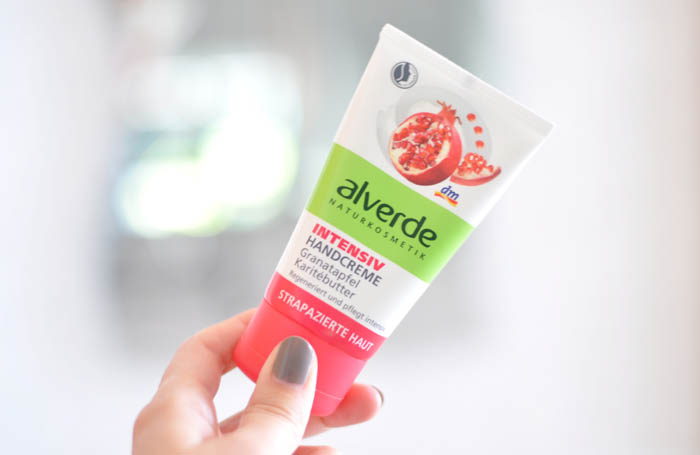 It comes in a handy 75ml tube (with a pretty pomegranate on it!), perfect for around the house, in your handbag, or in your carryon if you're flying. The cap opens easily but still feels secure enough that the product isn't going to go everywhere. This INTENSIV product also holds the NaTrue and Vegan seals.
Smell is pleasant enough, although reminds me a bit of soap or even sunscreen, but also a bit product-y if you really smell it for a while. The scent doesn't linger on your hands too long though (unless you put your nose on the skin, then you can kind of smell it).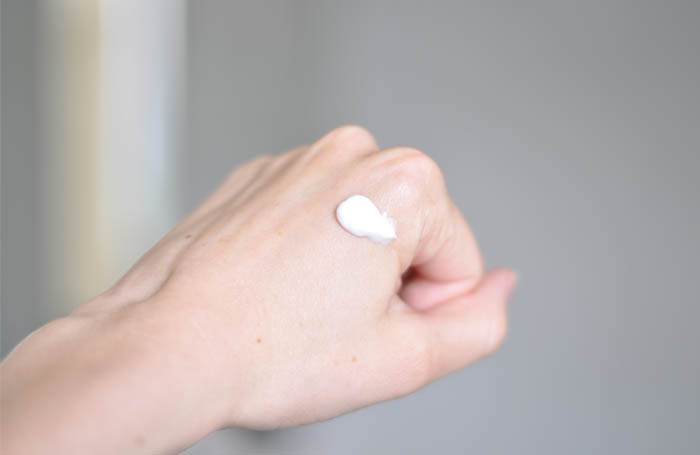 It has that nice creme consistency that says "I'm intensive!" but is still thin enough to spread across the skin evenly. Unfortunately it leaves a greasy residue, no matter how much I massage it into my skin. It does absorb completely eventually, but it does take quite a while, too long for my taste.
My hands are potentially not dry enough to need such an intensive product, which is why there is still a bit of a greasy residue, but I use this in the evenings instead of during the day now. If I'm ever watching a movie in the evenings or before bed I will use this hand creme and spend a while massaging it into my hands and nail area. My hands do always feel nice in the mornings.
In conclusion, it definitely is "intensive", perhaps a bit too much for me, but if you have dry skin may be great for you. If they have a tester in your local dm I would give it a try, but for €1.95, it's not too bad for something you may only use occasionally.
If any of you know of some great lip balms or hand cremes, I would love to hear your suggestions!
Love,