Thought I would talk a bit about my hair care today (mostly because my old shampoo is running out and I'm about to start a new one to compare!)
To start off with, I have dark brown, longish (below my shoulders) length hair, and I'm quite lazy about doing anything with it. It usually looks fine on its own so it has made me become quite lazy about what I do with it.
Last year I visited a fairly organic/naturally minded hairdresser (who do a great job cutting my hair by the way) who told me I'm treating my hair all wrong. He pretty much said not to wash my hair at all but I don't think I can go down that road just yet. He told me that you don't really need conditioner and you should only really be rinsing your hair, the natural oils will keep it healthy. He introduced me to the benefits of using a boar hair bristle brush and a natural comb. Internally I was rolling my eyes, but I knew that I really should be using more natural products in my hair.
The less chemicals in life the better.
For Christmas last year my boyfriend bought me a nice little selection of natural hair care products -bless him. A non-colouring Henna Shampoo by Logocos which is vegan (thought doesn't bare any certification seals), a boar hair bristle brush by Faller (nice and German made), and a natural comb with both wide and narrow teeth (I'm not sure what brand this is but I believe it's made from wood and recycled bio-plastic).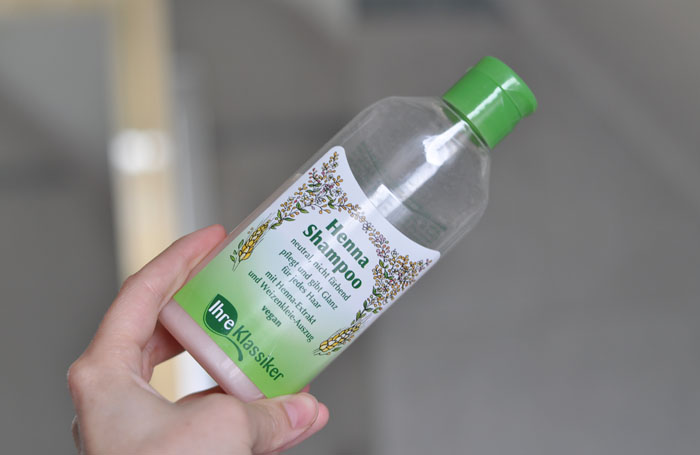 I started using this shampoo back in December and it has lasted forever. I have been trying to wash my hair less, as per greeny-hairdresser's recommendation, and you don't need very much product for each wash.
The shampoo itself has a nice colour and consistency, not super foamy, but you can't expect a lot of foam from something that is more natural. It still contains sulfates which foam up enough for me but it's not like bubble bath (cue super popular non-natural shampoo brand). I was mildly worried it was going to colour my hair (I made my boyfriend use it first) but it doesn't, at least it not that I can tell. It has a pleasant smell, I guess like nice shampoo is the best way to describe it, not overly "natural"; whatever "natural" smells like.
I believe it does a good job of washing my hair; I concentrate on washing my scalp more than my actual hair, and scrub some of the bubbles through the lengths at the end. I think that this product may potentially be a bit too drying for me though, I've never really had issues with a flaky scalp until using this. If I really concentrate on scrubbing my scalp usually there's no problem but if I don't think about it I will sometimes comb my hair through later and see a couple of white bits here and there. Ew. This shampoo contains sulfates which may be the issue; I'm still on the lookout for a good shampoo without them.
This shampoo definitely removes any gunk from my hair, but my hair doesn't feel nice and silky afterwards which I don't really like, but I think this is actually better for the hair; it's not coated in artificial silky stuff. I still think my hair feels like straw but maybe this is the "natural way".
This is my first natural shampoo and all so I'll see how the next one makes my hair feel and update you all then.
I'm not using conditioner at this point either (hairdresser said there's lots of hidden chemicals in conditioners – insert internal eye-roll). I haven't used a conditioner in a good five or six months now. First off I didn't like the way my hair felt, it wasn't nice and silky soft any more – no synthetic silk, that's why. I'm trying to get used to it but I still don't love it so I think I'm just going to try and hunt down a super natural conditioner or mask or something. I wouldn't say my hair is dry and brittle, it's just a bit bleh. I think it looks ok, it just doesn't feel as (artificially) lovely as it used to.
Anyway, after washing my hair I wrap it in a lovely microfiber towel my mother sent me by a company called Turbie Twist (no idea where she found it). I believe microfiber is supposed to be a bit gentler on the hair, and this towel is super absorbent. Its very lightweight, so I'm not walking around with a gigantic heavy towel on my head – good for the neck!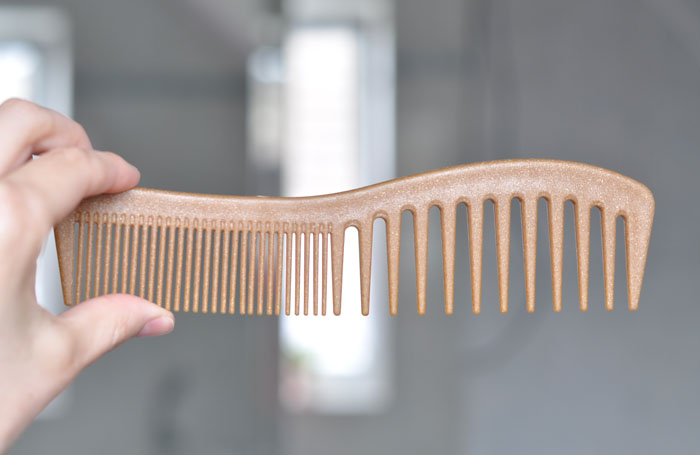 Once my hair is mostly dry, I use the natural comb to detangle then allow it to air dry. I hardly ever use any heat on my hair, rarely use a hairdryer and probably use my GHD straightener only a couple of times a month.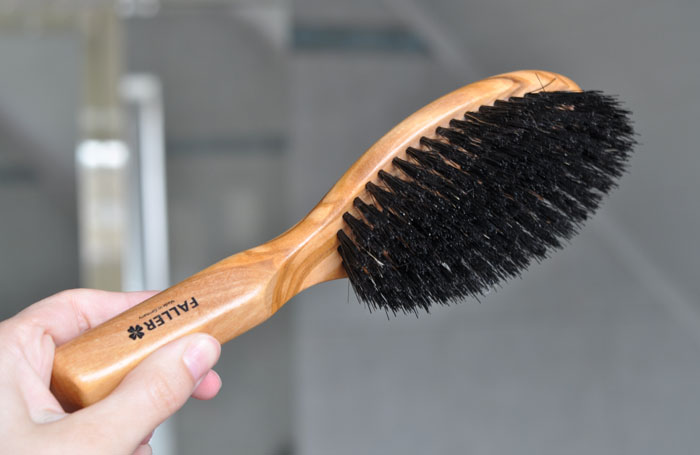 Every day I will use the boar hair bristle bush (only on dry hair) to distribute natural hair oils and goodness through my hair. This brush is supposed to stimulate hair growth, so the idea is really that it brushes and massages your scalp. I flip my hair over so I'm basically upside down, and brush all the way from my scalp to the ends. It does make my hair a bit static-y; I think the brush isn't quite big/wide enough for my long hair. Once this is done, I then comb through with the natural comb to calm it down, sometimes with a bit of water if it's really out of control.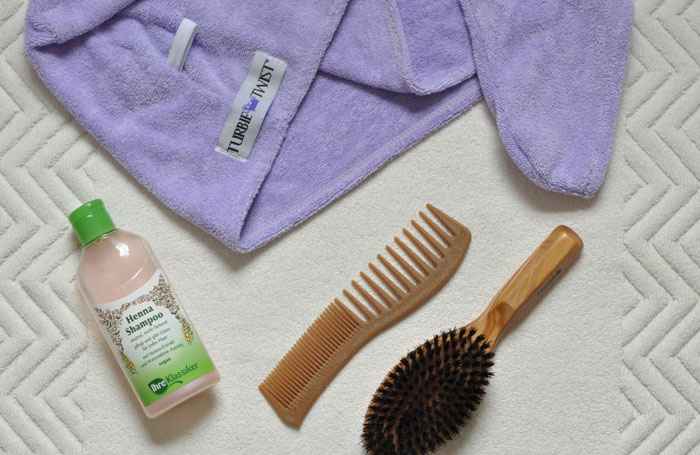 And that's it! Hair done! My hair has quite nice waves to it when I let it dry itself, sometimes it need a bit of help with some water to help it "curl" up a bit. Brushing it tends to straighten it out does give it a bit of volume too.
Once this Logocos shampoo runs out I will be trying a nice little Sante Naturkosmetik product. It smells amazing so I'm super excited!
I want to research into what I am going to call the Great Sulfate Debate, we all know SLS is bad and SLES is almost as bad, but what about Sodium Coco Sulfate? How bad is that? I think any sulfates are probably not so great but if you have any comments, leave them for me below!
Love,