I don't often wear eyeshadow, but I thought I would try and find a "greener" eyeshadow than the ones in my current makeup bag…
I purchased this Lidschatten Quattro (eyeshadow quad) in the colour Chocolate (#37) from dm's own brand alverde Naturkosmetik.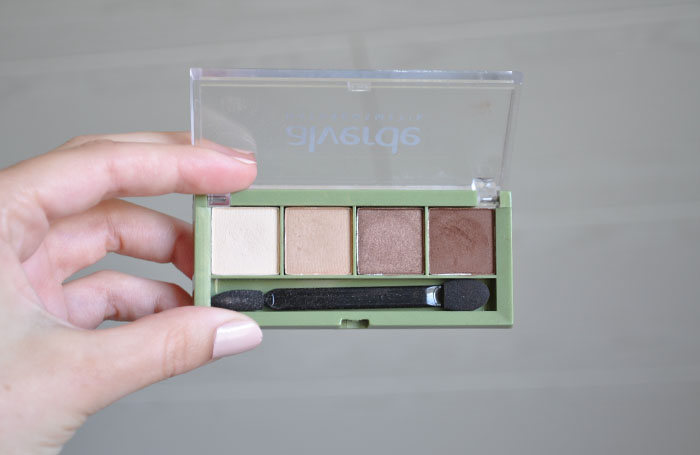 I bought this a while ago and I have only just around to reviewing it unfortunately; I have only used a few times you see. I have since learned of the troubles surrounding the "less recommended" ingredient Talc; sadly this product contains it.
I always knew Talc was a cheap filler for powdered cosmetics but I didn't think on it too much more than that. There are many sources that now say Talc can compared to asbestos in terms of the issues it in can cause to the respiratory system. If inhaled in large quantities, it has the potential to cause tumours in the lungs according to the Toxic Ingredient Glossary by the Green Beauty Team.
It is used in many, many cosmetics, even some of the big "organic/green/clean" brands!
I will definitely be avoiding it from now on if I can, but will continue to use this until I find a replacement. I will just not be breathing as I apply my eyeshadow haha! I have been on the lookout for a new clean foundation as that is one of the products I haven't switched out yet, but now I know to avoid Talc.
Back to the alverde Quad!
Ingredients: Talc, Mica, Caprylic / Capric Triglyceride, Magnesium Stearate, Silica, Chamomilla Recutita Flower Extract *, Simmondsia Chinensis Seed Oil *, Glycine Soja Oil, Olea Europaea Fruit Oil *, Helianthus Annuus Seed Oil, Tocopherol, Bisabolol, Tocopheryl Acetate, Ascorbyl Palmitate, Tourmaline, Parfum **, [+/- CI 77891, CI 77742, CI 77499, CI 77492, CI 77491] ingredients: talc, mica, fatty acid esters, magnesium stearate, silica, chamomile extract *, jojoba oil *, soybean oil, olive oil * , sunflower oil, vitamin E, bisabolol, vitamin E acetate, vitamin C palmitate, gemstone powder, mix of essential oils **, mineral dyes

* ingredients from certified organic agriculture

** from natural essential oils
I love a good chocolatey or smoky eye so I picked up this quad from the alverde range. They have a few other colour ways available but I thought this was the most diverse for day and nightwear.
I quite like the packaging, nice and clean and simple. It comes with one of those sponge applicators, but I tend to use a brush so I will leave it in there as a "just in case", but will probably never use it.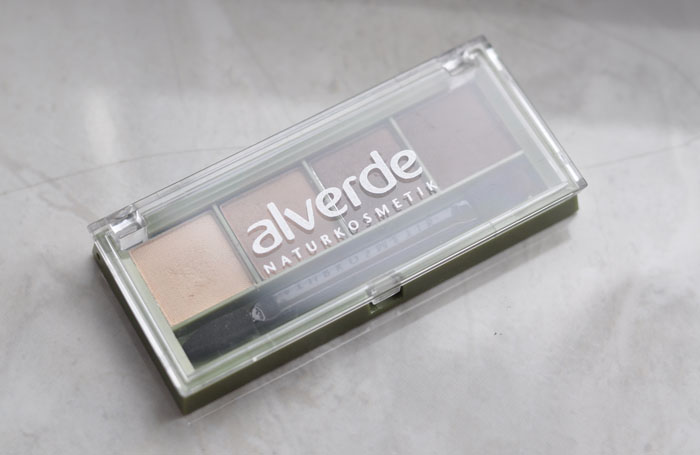 The colours are not named so for the purpose of this review I will call them, from left the right: cream, mid-brown, bronze-brown, and dark brown.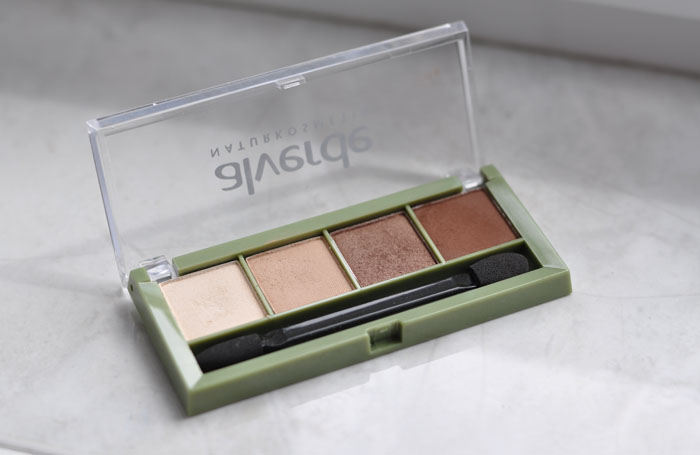 This quad gives you three matte shade and one with a bit of a metallic glow (I wouldn't call it a shimmer, it's just kind of metal shiny). This is the bronze-brown and I really like it, it's such a lovely colour; I hate shimmer but I think this is so pretty! (I don't think it photographed very well unfortunately).
In terms of colour payoff, the two darker shades are very good, you only need to dab your brush in and get the tiniest amount. Tread lightly, I warn you. The creamy colour gives hardly anything at all (I had to swatch quite a large quantity to get it to look like this). The mid-brown is somewhere in between. Gives a bit of colour, but can be built up.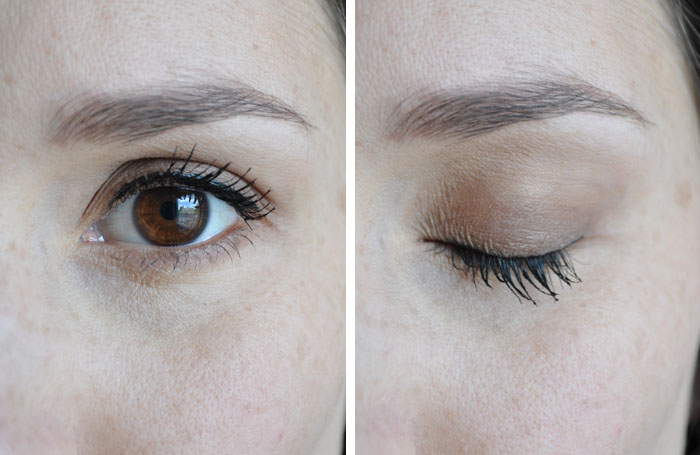 Above is a simple day look I created using them, I'm not much of a makeup artist, sorry! I started with the mid brown in the middle of my eyelid and built up and bit of the dark brown from the outside corner, I added a bit of the bronze-brown in with this as well. Finished off with the cream blended across from the inner corner of my eye to tone everything down and bit and blend everything together. (I also used the alverde Gel Liner here, and a combo of the alverde Nothing But Volume Mascara and the alverde False Lashes Mascara).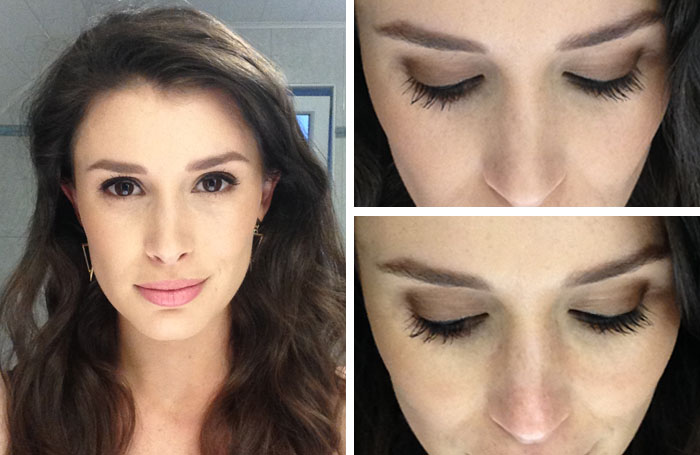 Above are a couple of pics from a night out a while ago. I was a bit more heavy handed on the application to darken/smoke it up a bit, but mainly followed the same steps as the day look photos. The left and top right pictures are from before I left, and the bottom left is when I got home (looking a little bit worse for wear!) The eyeshadow stood up pretty well though actually. There was a bit of creasing, but it was only really noticeable if you stood about six inches from my face and stared at me. ((I also used the alverde Gel Liner here, and a combo of the alverde Nothing But Volume Mascara, alverde False Lashes Mascara, and the Benecos Maximum Volume Mascara).
All in all, this is a pretty decent, budget product. For only €3.95 it's a pretty good deal really. It is certified by Natrue, and this product is also Vegan. The Talc is a bit concerning, but I can live with it for now considering I don't have a habit of sniffing eyeshadow, and I only wear it around once a month!
I am on the lookout for some talc free eyeshadow though, preferably in the budget range. I've heard good things about the Lily Lolo palette… Any other suggestions?
Love,