A quick post today about the shower crème I have been using lately…
My skin tends to get this weird bumpy rash thing when it's exposed to certain chemicals, though I'm not sure exactly what. I had this rash thing appear a few months ago and it was either from a new fabric softener or new body wash. I stopped using both and bought a pH 5.5 soap-less showergel which seemed to do the trick.  Now that I've transitioned into natural products I searched for something that wasn't going to wreak havoc on my skin again.
In dm I discovered alverde's Ultra Sensitive range and picked up the Ultra Sensitive Duschcreme. With my limited German I was able to work out that this product was free from purfumes (which can irritate skin), artificial dyes (also skin irritant), and preservatives (ew). From the ingredients list I could also see that it didn't contain any sulfates (bonus), but I was mildly concerned about the alcohol.
List of Ingredients: Aqua, Coco-Glucoside, Alcohol *, Glycerin, Simmondsia Chinensis (Jojoba) Seed Oil *, Xanthan Gum, Disodium Cocoyl Glutamate, Glyceryl Oleate, Sodium Cocoyl Glutamate, Citric Acid * ingredients from certified organic agriculture
Still quite a few "science-y" sounding words in there but this is a budget product, you can't expect liquid gold. The addition of organic Jojoba seed oil in the top five ingredients is a nice touch. Jojoba has numerous benefits for skin (and hair); it has anti-bacterial and anti-inflammatory properties, and it's a fantastic moisturiser.
I have been using this product for a while now and can say I am really quite happy with it; and no weird bumpy rash thing either and I used this when I exfoliate.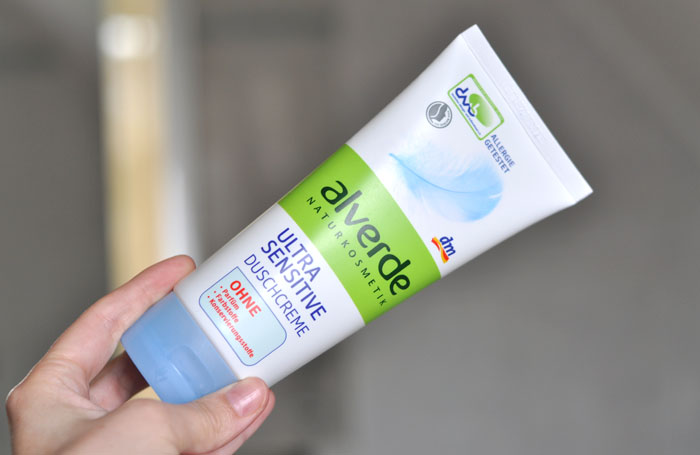 It has nice clean packaging (points for design), and comes in a 200ml soft squeeze tube.
As for consistency, I certainly wouldn't classify this a "crème", it's definitely more of a gel in my book. It's translucent and milky in colour and tends to stick together and just kind of roll down your hand in a big blob rather than running like you would expect a crème to.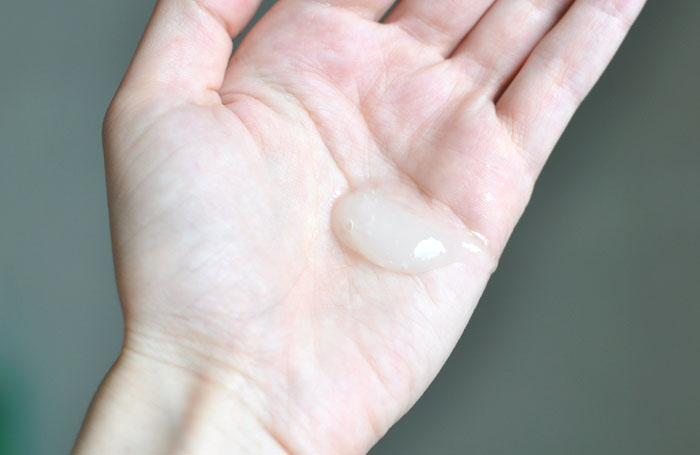 Here comes the alcohol. As there are no perfumes in the product the only thing that and left with a scent is the alcohol. As soon as you squeeze it out the smell is a bit overpowering, it smells just like hand sanitiser. But this smell dissipates quickly (or I get used to it quickly, not sure), and then there's really no smell, either way it was a bit of a shock the first time I used it but I don't really mind it now.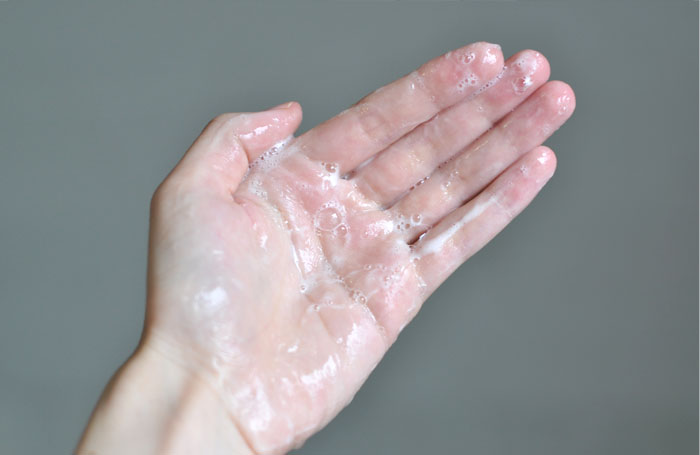 It lathers up nicely which I like, even though there are no sulfates. I believe this is due to the Coco-Glucoside which is a very mild foaming/surfactant agent derived from coconuts. It is said to enhance the moisturising properties of the mix of ingredients.
I use this with an exfoliating glove without any issues or irritations at all. I also use this to shave with, because I'm a lazy, stick my leg up in the shower kind of girl. I was very tentative the first time because of the alcohol being so high up in the ingredients list but no problems at all!
Once out of the shower I generally moisturise at least my legs, most of the time. But not because this has dried my skin out, I don't think it has affected that at all… I just like to test out my body butter (review coming soon)!
This product is great for only €1.75! Especially for those with skin sensitively issues, although DISCLAIMER: I wouldn't say I was your typical sensitive skin; most things are fine on me. Check the ingredients yourself to make sure this product is for you. It bears the Vegan bloom and Natrue seals; it holds the first level of certification from Natrue: Natural Cosmetics. This product has also been certified by the DAAB – the German Allergy and Asthma Association eV. This is the seal of approval for non-allergenic cosmetics, detergents and washing-up liquids.
If you like lovely smelling shower products, this one is not for you… Not that you should use them anyway because most of the "lovely" fragrances and artificial and can irritate skin. 🙂
Know of any other great shower products for sensitive skin? Let me know!
Love,